On a cold January day in 1924, a woman stood in the witness box at Marlborough Street Court in Soho, London. She had been called to testify in a case of a robbery at the Piccadilly Hotel.  Giving her name as Mrs Ola Broadwood, she announced, "I am a Mohammedan!" and proceeded to take her oath on the Quran, concluding it with "So help me Allah". [1]
This was the first time that the newspapers, which had speculated about the faith of this former West End actress, had any clear indication of her religious convictions. There had been reports of her having accepting Islam at the point of her marriage to her first husband Prince Ibrahim Hassan of Egypt in 1911, when she had apparently taken the name Lulu Habeeba.[2] A little under a decade later, several articles mention her embracing Islam in a ceremony at the Shah Jahan Mosque in Woking attended by prominent figures including Lord Headley.[3] But Ola, up until then, neither confirmed nor denied her faith.
So who was Ola Broadwood, or Ola Humphrey, as she had been known on stage?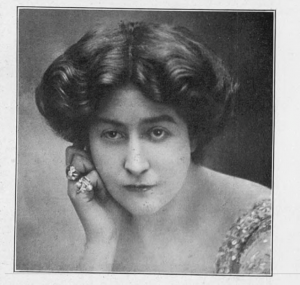 Image Credit: Illustrated Sporting and Dramatic News, 20th August 1910
Born Pearl Ola Jane Humphrey in Iowa in 1875, she often gave her year of birth as 1884. The daughter of a furniture manufacturer, Ola moved with her family to California in her early teens and, in an attempt to shed her Midwest origins, would often tell people she was San Franciscan by birth.[4] She would grow up and go on to perform on theatre stages in Australia and New Zealand, before settling in London.[5]  Once there she didn't waste time before taking to the West End, playing a leading role at the Palace Theatre on Shaftsbury Avenue followed by another leading role at the Strand Theatre in Aldwych in 1910.[6] And it was while performing at the Strand that she was introduced to Prince Ibrahim Hassan, the first cousin of Khedive Abbas of Egypt.[7]
After a whirlwind romance the two were married on the 15th April 1911 at the Strand Registry Office. Ola handed in her stage contract and the couple moved to Paris.[8] But it wasn't to last and the story of her short-lived marriage would be the inspiration for the 1915 Hollywood serial titled 'Under the Crescent' in which Ola starred. She returned to London in the autumn of 1911 and sought to persuade the Prince into granting her a divorce, which he repeatedly refused. The battle to secure an annulment only ended with the death of the Prince in 1918. Despite having been widowed Ola saw none of the inheritance that was due to her, and began a lawsuit against the Egyptian Royal family both in the British and Egyptian courts. In order to fund her legal fees she returned once again to the West End Stage. [9]
In 1920 announcements appear in newspapers of her engagement and subsequent marriage to a Captain Henry Broadwood.[10] Ola seems to have left acting for good this time and resided in Surrey.
Whether she shied away from declaring her faith publicly for fear of garnering unwanted attention, or wanting to keep her religious beliefs private, there are infrequent articles throughout the decades that show that even when married to her second husband she was involved in, or at least supported, the burgeoning UK Muslim community. In an article in September 1922 about Winston Churchill being presented with a prayer mat at the Colonial Office, Ola is mentioned as owning a collection of them that were to be used for a ceremony at the building of a minaret of a new London mosque in Southfields.[11]
In 1938 Ola was widowed for the second time and remained in the UK until she was evacuated back to the United States during the Second World War in 1941. Little is known of her later life. But in 1947 she was living in a room on West 54th Street in New York City, dependent on the monthly cheques paid to her by the New York Welfare Department.[12] The following year she appears to have moved back to California, where she passes away at the age of seventy-three in relative obscurity.
Author: Fatimah Amer
[1] Sunday Post, 27 January 1924.
[2] Ibid.
[3] Hartlepool Northern Daily Mail, 5th August 1922; Hull Daily Mail, 5th August 1922; Birmingham Daily Gazette, 5th August 1922.
[4] The Des Moines Register, 11th June 1922.
[5] The Era, 3rd September 1906.
[6] Globe, 21 February 1910.
[7] Falkirk Herald, 6 May 1916.
[8] The Sketch, 26 April 1911.
[9] The Philadelphia Inquirer, 10th August 1947.
[10] Surrey Mirror, 28th May 1920.
[11] Pall Mall Gazette, 16 September 1922.
[12] The Philadelphia Inquirer, 10th August 1947.