This account relates to my husband's father, Chanan and his sister's family by marriage. It's a story of displacement and division caused by political expediency in which ordinary people were pawns to be manipulated. Or at least that's my view – by Kathryn Kabra
Chanan was born in 1926 in a village near Hoshiarpur. His family owned and farmed the land. He was the eldest of three brothers. He had little interest in taking over the farm, feeling there was a bigger world out there to be explored.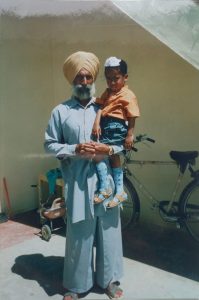 At some point in his late teens or early 20s, he met and became very friendly with a family of similar-minded people. When a government incentive scheme offering land in exchange for land clearance in Lahore came along, the family invited him to take up the offer with them.
They all moved to Lahore, worked hard to clear the land and establish a  viable farm with every intention of settling there. Within a few years, Chanan realised this was not for him and returned to Hoshiarpur.  This would be in about 1945. A few years later, he married and started a family; his firstborn was a daughter in 1949, my husband in 1951, and subsequently, three more children.
Meanwhile, in Lahore, the family were thriving; this was a family of 7 sons. The older ones work alongside their dad on the farm. Dharam, the youngest, was born in 1947. Sadly his mother died in childbirth.
Soon after, with Independence followed by partition on the horizon, it became increasingly dangerous to be a Moslem on the Indian side or a Sikh on the Pakistan side of the coming border. The family decided to make their way back to their old home, abandoning their new one with regret. Making this journey was perilous, and the surviving family members won't talk much about it, but they do have one abiding happy memory. At the time of the journey, Dharam was a baby, so to feed him, they brought along one of their goats. The milk from this goat kept him alive throughout the journey. They all, including the goat, survived and yet again were involved in a land clearance settlement scheme, this time in an area abandoned by Moslem families fleeing India. Essentially the seven brothers eventually became the village, building separate homes and working together.  This is the village we visit, and we have witnessed that the abandoned mosques have been preserved and respected over time.
When the goat eventually died of old age, it was buried with honour.
To wrap up the story, my husband's eldest sister married the youngest son Dharam (who was kept alive by the goat). They are in their 70s now. One of Dharam's elder brothers, who is still alive and still farming, gave us this account.