In 1928, an autobiography by a Somali seaman living in a socialist colony in the heart of the English Cotswolds, was completed. Its author was Ibrahim Ismaa'il who had arrived in England a decade earlier. Aided by his good friend Eugène Gaspard Marin, the Belgian anthropologist, he compiled his life story. Writing in the unpublished preface of the autobiography, Marin emphasised that it was the first time that the life story of a Somali had been recorded in their own words and that it was "difficult to overemphasise the value which such documents may acquire". However, there was little interest in an autobiography of a Somali at the time, and so it remained unpublished until June 1977 when the historian, Richard Pankhurst, published the surviving extracts in an Italian academic journal.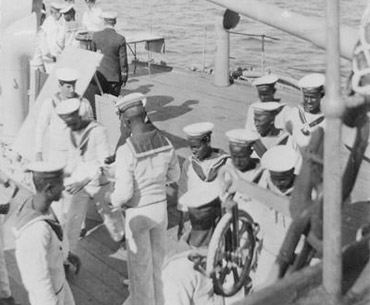 Interspersed with tales of his voyages on the merchant ships to port cities around the world, the autobiography also provides us with a tantalising and extraordinary first-hand account of life in England in the interwar period.
Ismaa'il was in his late teens to early twenties when he arrived in England. He had for several years worked for the British merchant navy travelling to ports as far as Buenos Aires and Karachi. But what brought him to England?
"While in Basra" he recalls, "I had heard of a place called Europe, which was the other side of Djibouti, and where life was easier, wages being higher. I now decided to try my luck there." He docked in London in early summer 1919 and headed straight to Cardiff "where there were many Somalis and plenty of ships, and where it was easy to get work."
Shortly after arriving in Cardiff he witnessed the anti-immigration riots of 1919, which swept across port cities from London to Liverpool, Glasgow to Hull. While he admits that at the time he did not understand what was taking place, his recollections provide another perspective to the often biased and racist newspaper reporting of the time.
"Shortly after our arrival crowds of white people attacked the black people in Cardiff …[W]e went to the Somali boarding house of Abdi Langara and there we waited, ready for an attack, as we expected that a crowd of white people might break in at any moment. In Millicent Street, the fight started at about 7:30 p.m. and lasted a fairly long time. Seven or eight Warsangeli [members of a Somali clan] defended the house and most of them got badly wounded. Some of the white people also received wounds. In the end, the whites took possession of the first floor, soaked it with paraffin oil and set it alight. The Somalis managed to keep up the fight until the police arrived. One of them was left for dead in the front room and was later carried to the hospital where he recovered; some escaped through a neighbouring house and came to tell us the story of what had happened, the others gave themselves up to the police, and we did not see them for a long time. Most of our countrymen were now in prison, on remand. When their case came before the magistrates, it was recognized that they had acted in self defence, and they were set free."
It was also in Cardiff where he met Marin, who was to become a close friend. In his autobiography he recounts their first meeting:
"While I was in Cardiff I used to frequent a small mosque which an Arab boarding house-keeper had fitted up at the bottom of his court-yard. One day as I went in I saw a white man talking in French to the cook of the establishment. The presence of a European among the Arabs puzzled me, and I stopped. The cook told me that the stranger was interested in Islam. Though I did not feel that I knew a great deal, I volunteered to tell him as much as I knew on the subject. I asked him where he came from and what was his address. He told me his name was Gassy, he was born in Belgium and now he lived in England on the Cotswold Hills. I told him that I might come his way some day and he said 'I shall be very pleased to see you'."
Thus began a friendship that spanned two decades, despite Ismaa'il being initially suspicious of Marin. His weariness was so great that on the first night of his stay at the anthropologist's bungalow in Whiteway he slept with a revolver under his pillow and lights on in his room. The next morning, having barely slept, he wrote a letter to a friend:
"I wrote to Isma'il Hadji; the first Arabic letter I ever wrote – I had just learned the Arabic alphabet in Cardiff. I did not expect Isma'il to understand my letter, but at least it would reassure him that I was still alive."
Their friendship blossomed however, with Marin in later years considering Ismaa'il one of his "dearest friends" and Ismaa'il likewise considering him "my friend, my brother".
On his first visit to London, Ismaa'il who had been using the assumed name of Saalah Abdullah, wanted to alter his name with the General Shipping Office. Marin advised him to take the underground to get there. Below is the amusing recollection of his encounter with the London tube network and escalators:
"When my friend first suggested that I should take the Underground, I did not like the idea of going down in those mole galleries, but I plucked up my courage and went, as I did not wish to show that I was afraid. I nearly fell in getting off the moving stairway; after that I made a point of always jumping off. I was at a loss to understand where the wind comes from that we always found blowing in the tubes. The whole thing seemed to me extraordinary."
In the spring of 1924 Marin told Ismaa'il "of a place called Wembley where things from many parts of the world were to be seen," referring to the British Empire Exhibition. Both men went down to London and it was during their stay in the capital that Ismaa'il recounts one episode of racism and discrimination:
"After the first afternoon at Wembley, we went to Bloomsbury to get a lodging as we had decided to stay a week. Most lodging places were full, but, to my friend's amazement, even those house-keepers who had a spare room would not take me in. Tired and disheartened, we thought we would try Rowton House1, where we thought anybody would be given a night's lodging; but here also we were politely told: "The establishment does not accept coloured gentlemen". We dragged ourselves on, until, at last, we were given hospitality by an old Russian Jew who had tramped through Siberia to China."(p.374)
Being turned away at Rowton House and other experiences of racism had a profound impact on Ismaa'il and his sense of belonging. In the concluding remarks of his autobiography he cites Whiteway, the socialist colony near the village of Stroud, as "the only place I knew in Europe where I felt that I was looked upon as an equal and a friend, and I liked the atmosphere of the place better than any other, though it was certainly the coldest place I had ever come across."
A grainy black and white photograph of Ismaa'il appears in Nellie Shaw's book Whiteway: a colony on the Cotswolds published in 1935. He is pictured sitting on the ground smiling in front of a half-built building, dressed in a suit among a group of ten other individuals. The caption beneath the photo reads 'Building the Colony Hall.' He is named in the photograph as Salah – the name he had assumed before changing back to his real name. Shaw, who was also a Whiteway resident, described him as a "nice fellow" who "soon won all hearts."
He didn't remain in Whiteway for long according to Shaw. She assumed him to be "homesick for his native land", which, to her, explained why he "elected to resume his seafaring ways". Whether Ismaa'il left England never to return is unclear. Perhaps he continued to serve in the merchant navy, docking off at Cardiff and staying within the Tiger Bay area before boarding another ship. Perhaps he made a home elsewhere or returned to Somaliland. We know his whereabouts in 1931, when Marin arrived in Somaliland as part of an extensive research tour and planned to meet Ismaa'il. However, Ismaa'il was away at sea. While the two remained in correspondence, sending letters to one another, soon Marin stopped receiving replies from Ismaa'il. His fate is not known. Marin died in Whiteway in 1969 and it was a year or so after his death that Richard Pankhurst became aware of the existence of Ismaa'il's autobiography amongst the anthropologists possessions. Seven years later Ismaa'il's words would be available for the world to read and provide extraordinary glimpses into a Somali seaman's life.
References:
1.Rowton Houses were a series of hostels that provided cheap accommodation for low paid men.
Pankhurst R. and Ismaa'il I. An Early Somali Autobiography, Africa: Rivista trimestrale di studi e documentazione dell'Istituto italiano perl'Africa e l'Oriente, Anno 32, No. 2 (GIUGNO 1977), pp. 159-176.
Pankhurst R. and Ismaa'il I. An Early Somali Autobiography (II), Africa: Rivista trimestrale di studi e documentazione dell'Istituto italiano perl'Africa e l'Oriente, Anno 32, No. 3 (SETTEMBRE 1977), pp. 355-384.
Shaw N. Whiteway: a colony on the Cotswolds, London, C.W. Daniel Company. 1935.