The release of the membership registers of the United Grand Lodge of England has meant that it is now possible to ascertain whether a person was a Freemason at a glance. The registers give details of the name and number of the lodge, date of initiation, when passed and raised (the three degrees necessary to become a Master Mason), the name of the initiate, age residence and profession and their yearly membership dues and finally any notes on the person such as resignations or deaths.

Part of a page from a Masonic membership register
A search of the registers shows that three known luminaries were members and were either founders or associated with the establishment of two of the earliest mosques in the country at Liverpool and at Woking. They were Gottlieb Wilhelm Leitner (initiated Lahore 1865), William Henry (Abdullah) Quilliam (Initiated Liverpool 1879) and William Marmaduke Pickthall (Initiated London 1914).  All were fascinated by the orient and is probably this that drew them to Freemasonry. In this paper, I would like to look at the masonic career of William Henry Quilliam whose journey into freemasonry was extensive. To begin it is necessary to look briefly at his early life and the development of his career.
William Henry Quilliam was born in Liverpool in 1856 and was brought up on the Isle of Man. He was educated at the Liverpool Institute and the Manx King William's College. In 1878 he became a solicitor specialising in criminal law and practised from offices in Church Street, Liverpool. He defended suspects in many high-profile murder cases. He married Hannah Johnstone in 1879 and was also greatly involved in the temperance movement.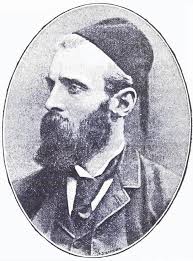 William Henry Quilliam
In 1887 Quilliam converted to Islam after a visit to Morocco to recover from an illness.  He then purchased 8-12 Brougham Terrace, Liverpool to convert part of the buildings into a mosque, school and orphanage. The complex also included a laboratory and museum. Shortly after the mosque was opened the 26th Ottoman Caliph Abdul Hamid II granted Quilliam the title of Sheikh Al Islam for the British Isles, an honorific title given to outstanding scholars of the Islamic science. He was also recognised by the Emir of Afghanistan as Sheikh of Muslims in Britain as well as the Persian Vice-consul in Liverpool. He travelled extensively and received many honours from the leaders of the Islamic world.
Quilliam's career and credentials made him an ideal candidate for Freemasonry and on 15 July 1879, he was initiated into Alliance Lodge No .667 which met in Liverpool. He was passed on 19 August 1879 and raised to become a master mason on 21st October 1879. He remained a member of the lodge until 1883. In 1885 he joined the United Northern Counties Lodge No.  2128 which met in Red Lion Square in London. In 1887 the register records he was 'erased for non-payment'. In June 1899 he joined West Kirby Lodge No. 2690 in Birkenhead. Two of Quilliams' sons, Robert Ahmed and Walter were also initiated into the lodge.  Their father resigned from West Kirby lodge in March 1901. In July 1901 William Quilliam joined Liverpool Lodge No.1547 and remained in the lodge until his resignation in December 1907.
In September 1901, Quilliam became a founder member of Temperance Lodge No. 2876 which met in Birkenhead. He became its Worshipful Master in 1906. This appears to be the only lodge of which Quilliam had attained the Master's chair. During his time as Master he initiated his son William Henry Billal Quilliam into Freemasonry on 26 September 1906. After his year as master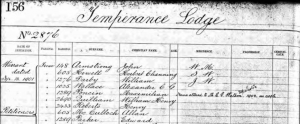 Extract from the Masonic membership register for Temperance Lodge No.2876 showing William Henry Quilliam as a founder member of the lodge.
the membership register records 'left country' in 1909'. Another lodge which he joined was Lilley Ellis Lodge No. 3236, which he became a member of in 1907. This time the membership register records that Quilliam had 'absconded'. The reasons for him leaving the country will become apparent.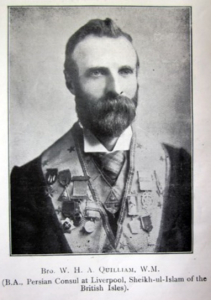 William Henry Abdullah Quilliam with Masonic Regalia in 1906 as   Master of Temperance Lodge No. 2876.
A photograph of Quilliam in masonic regalia, when he was master of Temperance Lodge, shows that he was a member of several orders of Freemasonry, these included Chapter and the Mark and Royal Ark Marriner degrees. He was also a member of several more esoteric 'fringe' masonic societies. In the photograph, Quilliam is wearing the collar of the Ancient and Primitive Rite, an order which was founded by John Yarker in 1881. Quilliam was a member of Rose-Croix chapter No.7 (Liverpool) of the Ancient and Primitive Rite. He was a prominent member of the rite until at least the time of Yarker's death in 1913. Yarker, its founder professed that the rite's 'rituals embrace all Masonry, and are based on those of the Craft universal; they explain its symbols, developed [sic] its mystic philosophy, exemplify its morality, examine its legends, tracing them to their primitive source, and dealing fairly and truthfully with the historical features of Symbolical Masonry. They contain nothing in their teaching but what Mahommedan, Christian, Jew, Buddhist, Brahmin, or Parsee may alike acknowledge'. From this it becomes apparent why Quilliam was attracted to the Rite and became deeply involved.
He was also a member of the Anglo-Indian order known as Sat B'hai, which was influenced by Hindu mysticism. The name signifies "Seven Feathers," and it alludes to the bird Malacocersis Grisis, which flies in groups of seven. The society was introduced into England about the year 1872 by J. H. Lawrence Archer. It had seven descending degrees, each of seven disciples, and seven ascending degrees of perfection, Ekata or Unity. Occult historian Arthur E. Waite believed that the rituals were compiled by Masonic writer John Yarker, who had founded the Ancient and Primitive Rite.  In around 1880, Quilliam founded the Order of Zuzimites which he appointed himself Grand Master The majority of its membership were converts to Islam. The order published a journal called 'the Zuzimite' which Quilliam was the editor.
Quilliam's secular and Masonic career came to rather an abrupt end when he had to leave the country as he was about to be struck off by the Law Society. This was due to a case he was working on for a woman who had petitioned the courts on the grounds for divorce due to cruelty and adultery. Quilliam was found to have given false evidence in that case and went abroad to avoid further prosecution.  He was later to come to England not as William Henry Quilliam but as Professor Henri Marcel Leon. This was the beginning of a new chapter in the life of William Henry Quilliam.
Author: Elias Kupfermann – Archivist of the Shah Jahan Mosque, Archive collection, Woking.