Britain's history is one of the key fronts in our divisive identity 'culture war' – yet remembrance of shared history also has the power to bring people together in a way that few other things have.
A new project this autumn sees students from two secondary schools in East London and Rochdale appealing to people in their local communities from a black and Asian background to come forward with their family stories of relatives who served in the Second World War.
Remember Together,  a project supported by think tank British Future, the Together Coalition and The Royal British Legion, aims to bring people from different backgrounds together in remembrance of our shared history. It highlights and celebrates the service and sacrifice made by servicemen and women of all creeds and colours, engaging new audiences and helping make the national tradition of Remembrance feel relevant and inclusive to everybody in Britain today.
The Year Nine students, aged 13-14, are interviewing members of the local community and hope to collect images of old photographs and medals that have been passed down by older relatives. Interviews and images will be displayed on the school website and in a short film to be shared on social media.
The students at Eden Girls School Waltham Forest, a Muslim school, are collecting stories now – and calling on people in the East London area to share their family stories of WW2 contribution by contacting them at info@egwf.staracademies.org or on 07593 336138.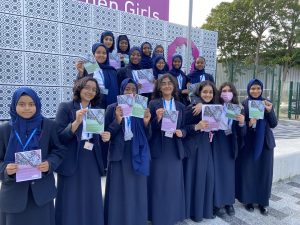 Students at Eden Girls' School, Waltham Forest, taking part in the Remember Together Project
The students will then become historians themselves, conducting filmed interviews with family members and documenting these stories – with video, family photos and pictures of medals and other memorabilia – on their school website. An event at the school, ahead of Remembrance Sunday, will share this new history and heritage wih the local community. Dr Avaes Mohammad, a teacher at Eden Girls School, said:
"This is an exciting project that will bring history to life for our students through the stories of real people from families in their community.
"Every year the school marks Remembrance and we discuss with the students why it is important.  Now they will connect that moment to the sacrifices made by ancestors from their own communities, and from people with similar ethnic and faith backgrounds.
"I hope local people will come forward with family histories to help make this project a big success."
 Students at Falinge Park High School in Rochdale completed this stage of the project earlier this year and the fantastic stories they uncovered are presented on the school's website. The response, from the students and the local community, surpassed all expectations. The project found a strong sense of family pride in their relatives' service – and appreciation that these untold stories were finally being shared. The students also unearthed some wonderful stories – like the grandfather who would tell his grandkids never to pick up pens from the floor, following his experience fighting for the British Indian Army in Burma where Japanese troops would leave booby-trapped pens on the battlefield.
Teacher Vacas Ahmed, who led the Rochdale project, said: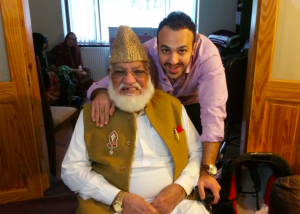 "We hoped to demonstrate the diversity of the British armed forces during the Second World War, which was a representation of the present British multicultural society. Although these contributions are placed as a footnote to mainstream narratives of the World Wars, we aimed to reconceptualise the make-up of the British armed forces, which included millions of servicemen from Asian and African heritage."
WW2 veteran Muhammad Sadiq Malik Qadri and his grandson, who shared his stories with students in Rochdale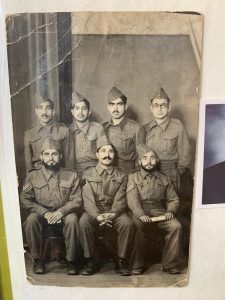 Awareness of the vast contribution made by black and Asian servicemen and women in the World Wars has increased significantly, but still requires further promotion to majority and minority audiences alike. Research for British Future finds that eight in ten people (78%) agree that doing more to recognise the Commonwealth contribution in World War Two would be a positive way to promote understanding of the shared history of today's multi-ethnic Britain. That sentiment is felt equally by white Britons (78%) and ethnic minority Britons (76%), with just 3% of people saying they disagree.
Image of Syed Qurban Hussain Shah, one of the stories uncovered in Rochdale
Zaynab, a student at Eden Girls School Waltham Forest, said:
"It can feel like the contribution of black and Asian soldiers in WW2 is overlooked in our history books.
"As a student from a Muslim background, I'd like other people to realise that our great-grandfathers served alongside theirs. It makes Remembrance more meaningful knowing that this is history we all share."
In November 2020, British Future assembled a coalition of voices – across politics and ethnicities and from civil society, culture, the military and faith – to urge that "more should be done to highlight the role of soldiers from across the Commonwealth, ensuring their contributions are reflected and acknowledged, and that Remembrance activity is truly inclusive." Supported by both the Prime Minister and Leader of the Opposition, they called for greater efforts "to ensure all who served are fully recognised through better education, commemoration and documentation of our shared history."
We've seen how this approach can work, as an inclusive way to talk about remembrance but also as a way to engage students in our diverse classrooms with more challenging topics like empire, race and colonialism. There is a growing confidence that remembrance is inclusive in schools but this has not yet translated across generations and into the local remembrance services at cenotaphs across the country.
Remember Together offers one model for telling the stories of black and Asian contribution in the classroom today, bringing students and their local communities together to remember the history that we share.
Main Photo: Ahmed Din, born in Pakistan 1916, who served as a platoon commander in WW2 – his family in Rochdale spoke of their pride in his WW2 service
Steve Ballinger – Director of Communications, British Future