An appeal from Everyday Muslim to Muslims in Britain and Muslims worldwide to share memories, photos and documents of Malcolm X's visits to Britain in 1964–5. Written by Yahya Birt.
Malcolm X addressing students at the University of Manchester, 4 December 1964. Sat behind him from left to right are Hoossain Rajah, FOSIS Treasurer, Salim al-Hassani and Ebrahimsa Mohamed, FOSIS General Secretary.
The nationalists have claimed Malcolm. The socialists have claimed Malcolm. It's time for you Muslims to claim Malcolm, because he was a believer. — Dr Betty Shabazz to Imam Zaid Shakir
On the fifty-fifth anniversary of Malcolm X's assassination, may God have mercy on him, we should make a renewed effort to reclaim the history of Malcolm's time with Muslims in Britain. Despite the avalanche of scholarship on Malcolm over the years, there is very little attention given to this aspect of his time in Britain, the exception being Marika Sherwood's forensic analysis of his trips abroad. This gap exists despite the fact that the Federation of Student Islamic Societies (FOSIS) sponsored an extended tour for Malcolm including events in Manchester, Sheffield and London, in addition to his Oxford Union debate in December 1964. FOSIS arranged another event for him in Birmingham on his last trip in February 1965. We know that Malcolm X met frequently and extensively with Muslims in Britain on all four occasions that he came here. He visited and prayed at the Islamic Cultural Centre in Regents Park three times, spoke at Malaysia Hall twice, and offered Friday prayers at the Manchester Central Mosque. Malcolm stayed in our homes, he attended our mosques, he ate in our halal restaurants and he worked with our community builders and activists.
In the early 1960s, capable young Muslims had come from all over the world to study at British universities. They were driven to do well and to build up their countries back home, which had become formally independent or were shaking off European colonial rule. And among them were those who were attracted to Islamic revivalism and the call for Muslim solidarity.
Malcolm was an electric speaker, astute politician and master networker, who was prepared to work tirelessly and selflessly. He embodied in his person the very model of what a modern, committed, cosmopolitan Muslim activist could potentially be, whose international work connected and brought together pan-African, pan-Arab and pan-Islamic networks [see Alhassen; Curtis], while championing the cause of Black America. He was ahead of his time, and in certain respects still ahead of ours. 
Clearly Malcolm made a great impression on Muslims in Britain during his brief visits here, even though at the time he was much less well-known back then in Muslim activist circles than he is now. One FOSIS veteran told me personally that he had never heard of Malcolm until he was asked to arrange a speaking event for him for the December 1964 UK tour.
So we appeal to the Muslims in Britain and Muslims worldwide who met Malcolm on his UK visits, or whose parents or grandparents met him, to share their memories, their photographs, and any other documents to help us preserve this precious history so as to inspire us and future generations.
Please contact us at info@everydaymuslim.org.
There are also some particular gaps in our current knowledge about Malcolm's interactions with Muslims in Britain that we need your help with. These include:
His first visit to the Islamic Culture Centre in Regents Park on 10 July 1964
His first speech at Malaysia Hall near Marble Arch in London on 22 November 1964
The formal reception given to him by FOSIS in London on 1 December 1964
His visits to Manchester and Sheffield on 4 December 1964
His second visit to the Islamic Cultural Centre in Regents Park and second speech at Malaysia Hall near Marble Arch in London on 5 December 1964
His third visit to the Islamic Cultural Centre in Regents Park on 11 February 1965
His visit to Birmingham on 12 February 1965
Memories of Michael de Freitas/Michael X
Memories of the FOSIS officials and Muslim diplomatic officials, students and community activists and members who met and interacted with Malcolm on these visits
Below is a detailed timeline of his visits with some photographs in order to help spark people's interest and memories:
Malcolm X in Britain: A Timeline
FIRST VISIT: 10–11 July 1964 (London, stopover on the way to Cairo to commence MX's second Africa tour, flying in from New York)
Fri, 10 Jul, New York — London
— Met by reporters at the airport; also meets a fellow Hajji there, H.E. Masha of the Lagos City Council
— Goes to Carlton Towers Hotel in London
— Friday prayers at the Islamic Culture Centre in Regents Park. Encounters several friendly Ghanaians on the way in, whom MX had met before in Ghana.
— Press takes photos of MX praying at the ICC; holds a press conference afterwards there. "At the mosque I checked my camera & briefcase in a room & went into the area where the prayers were in process. Several reporters & photographers were watching me & taking pictures after the services. Afterwards I had a press conference at the mosque. The director (Dr. Awad) introduced me to all the Muslims & they were warm, kind and hospitable. The prayers were led by Sheikh Omar Gabir, a South African 'refuge' who had studied at Al Azhar. Dr. Awad was also from Egypt. I met about three English Muslims & the 'other' Muslims seemed 'too overly proud' that these Englishmen had been converted. At the press conference & in the 'social period' after the prayers I took time to explain the 'plight' of the 22 million Afro Americans, emphasizing that the U.S. government was violating the UN Charter by violating our basic human rights." (El-Shabazz, pp67–8)
 — Meetings with press at hotel and does some taped interviews at TV Channel 9, an independent station, before returning to his hotel and having a late dinner at 10.30pm
Sat, 11 Jul, London — Cairo
 — Meets South African Oxford student, Abraham Ngidi, studying "Negritude" and Sheikh Omar Gabir, the Islamic Cultural Centre's imam at hotel, explains the aims and objectives of the OAAU to them
 — Goes with these two in a cab to the Ghanaian High Commission and leaves the OAAU document with them, meeting several Ghanaian VIPs
 — Goes on to the Nigerian High Commission
 — On way to airport, met by Mashhud A. Malik, the son of the Nigerian High Commissioner, who gives MX a Cairo contact. Takes flight to Cairo via Geneva.
SECOND VISIT: 22–24 November 1964 (London and Paris stopover on way back to US from second Africa tour)
— Addresses FOSIS students at Malaysia Hall, near Marble Arch (Sunday Telegraph, 22 November 1964, p2, photograph and caption) The caption reads: "Malcolm X, a former leader of the Negro extremist Black Muslim movement, who now has a breakaway group of his own, addressing the Federation of Mohammedan Students' Societies at Malaysia Hall, in Bryanston Square, near Marble Arch."
THIRD VISIT: 1–6 December 1964 (England)
Tues, 1 Dec, New York — London
— Arrives at airport at 9.35am, having taken the 10pm from JFK, New York, the previous night.
— Goes to Mount Royal Hotel, London
— Calls in at the London offices of the Committee of African Organisations? [Most likely this day of visit, but precise date unmentioned or unconfirmed, see Sherwood, p184] 
— Formal reception for MX hosted by FOSIS [Sherwood, p157n23]. Part of an ad hoc extension to original Oxford Union Debate invitation with additional talks in Manchester, Sheffield and London, proposed by FOSIS to MX; Said Ramadan in Geneva agreed to fund it. Ebrahimsa Mohamed, as FOSIS General Secretary and the main tour organiser, was asked to accompany Malcolm on his tour. He was joined by Hoossain Rajah, FOSIS Treasurer, a co-organiser of Malcolm's FOSIS tour based at Manchester University, for the Manchester and Sheffield talks.
Wed, 2 Dec, London — Oxford
— Takes morning train to Oxford, put up at the Randolph Hotel, Oxford
— Meets groups of leftist students at the President's Room in the Oxford Union, organised by its president Tony Abrahams
— Tours the city, meets Oxford University students, spending time with Abrahams
— Louis Nthenda acts as his host, meeting him for breakfast and taking him around the city
Thurs, 3 Dec, Oxford — Manchester
— Meets more Oxford University students
— Dinner at the Oxford Union
— Oxford Union debate on extremism in defence of liberty [This event, including his time in Oxford, is extensively covered in two books by Amber and Tuck.]
— Leaves for Manchester?
Fri, 4 Dec, Manchester — Sheffield — London
— Stays at home of Rajah Hoossain, FOSIS Treasurer, and his wife, at 3 Parswood Rd, Withington, South Manchester
— Friday prayers at the Manchester Central Mosque in Victoria Park
— Free lunch with local Muslim students, Mohamed and Hoossain, as well as a professor of sociology at the University of Manchester, Steven Worsley, at the Bombay Restaurant, near the university, courtesy of Mr Nazir Uddin.
— TV interview
— "Malcolm X Speaks", Main Debating Hall, Manchester University Union. It was only because of the invitation of the Oxford Union that MX was allowed to speak by the MUU. Packed attendance. Lecture followed by media interviews.
— Driven to Sheffield in a Volkswagen Beetle, Malcolm had to fold his legs all the way there. Went with Salah Shaheen, Hoosain Rajah and Ebrahimsa Mohamed
— Received by Ghayasuddin Siddiqui, a co-organiser of Malcolm's FOSIS tour, Secretary of the Islamic Society of Sheffield University [Note: Ghayasuddin Siddiqui recalls that he took the bus and picked MX up at the train station, see Jordan, p56.]
— Speech at Students Union, University of Sheffield, attendance of 700; Ghayasuddin Siddiqui invites Neil Rackham, the white Secretary of the Sheffield Students Union to introduce MX in order to defuse any racial tensions that had been brewing on campus, as the local student magazine had supported the Smethwick voters' call to repatriate blacks. [Jordan, p61; Tuck, p166]
— Dinner at home of unnamed Egyptian PhD student, meal of macaroni and mince meat, that Malcolm enjoyed, and the first time he had eaten the dish
— Takes midnight train to London, having hardly slept for two days, accompanied by Ebrahimsa Mohamed. [Ghayasuddin Siddiqui recalls that MX stayed the night and left on the morning train to London, see Jordan, p61.]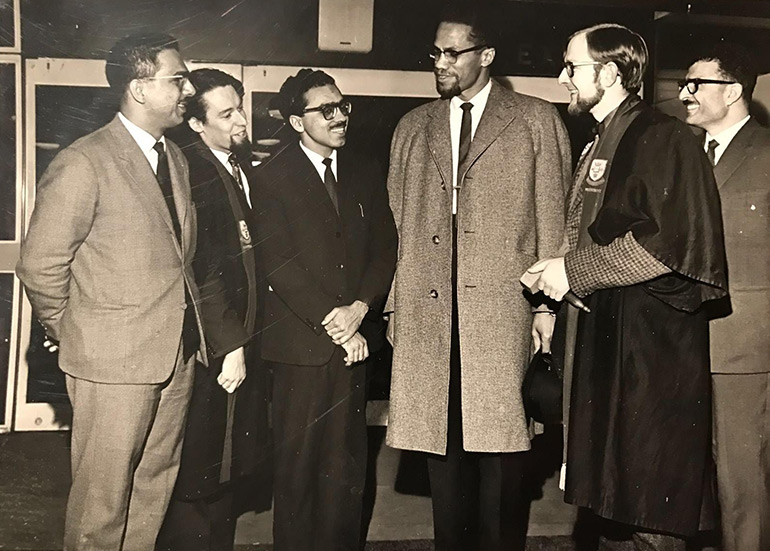 Malcolm in Sheffield, 4 December 1964, (left to right:) Hoossain Rajah (FOSIS Treasurer), Ahmed El-Kally, Ghayasuddin Siddiqui (Secretary, Sheffield Islamic Society), Malcolm X, Neil Rackham, the Sheffield Students Union Secretary, and Salah Shaheen, later elected FOSIS President in 1968, Sheffield, 4 December 1964. (Courtesy: Ghayasuddin Siddiqui)
Sat, 5 Dec, London
— Arrives in London
— Taken to lunch at the Islamic Cultural Centre in Regents Park to meet members of the Islamic Circle
— Evening Talk at the Hall of the Malaysian Islamic Study Group at Bryanston Square near Marble Arch, arranged by Ebrahimsa Mohamed, 300 students attend
Sun, 6 Dec, London — New York
— Departs on the 11.15am flight to New York
FOURTH VISIT: 5–13 February 1965: England, Paris
Fri, 5 Feb, New York — London
— Arrives in London [Source: Tuck, p167], at invitation of the Committee of African Organisations to its Congress on "Charting the Path of African Revolution means tackling imperialism, neo-colonialism in all it forms. Oppressed mankind, organise to achieve unity." [Source: Sherwood, p183] Speakers included Ambassador Khalifa from Algeria, Raymond Kunene, the ANC representative, and the historian Basil Davidson.
— Goes to Mount Royal Hotel
Sat, 6 Feb, London
— Attends CAO Congress at Africa Unity House, Collingham Gardens, Earl's Court
Sun, 7 Feb, London
 — Attends CAO Congress at Africa Unity House
Mon, 8 Feb, London
 — Addresses the CAO Congress at Africa Unity House
Tues, 9 Feb, London — Paris — London
— Flies to Paris to address Federation of African Students in France on the "Afro-American Struggle for Freedom"
— Detained by French authorities who did not allow him to contact the American embassy and is sent back to London on a return flight
— Phone interview with a Paris supporter; this interview is published in the volume, "By Any Means Necessary".
— Attends launch of the black-owned weekly, Magnet, at the Commonwealth Institute
Wed, 10 Feb, London
— Meets Michael de Freitas (later Michael X and a leader of the Black Power movement in the UK) at the Africa Unity House, where MX was dining with the CAO President and some others; De Freitas invites MX to come to his home that evening where he meets Nancy Bacal, De Freitas' girlfriend; they drop MX back to his hotel around 1am. [Williams, p110]
Thurs, 11 Feb, London
— Interviewed by Times reporter while eating a chicken lunch at the Islamic Cultural Centre, Hanover Gate (Times, 12/02/65, p7)
— Speaks at the London School of Economics, at the invitation of the Africa Society, to a "packed audience" on the "relationship between the African states today and the Black Muslem [sic] movement" (Beaver [LSE student newspaper], 18 February 1965, cited in Sherwood, pp192–3). Published in "Malcolm Talks to Young People".
— De Freitas and his girlfriend drive MX to Notting Hill; MX addresses a meeting there at the old All Saints Church Hall on Powis Gardens [Source: Abdulmaalik Tailor from interviews with local community elders]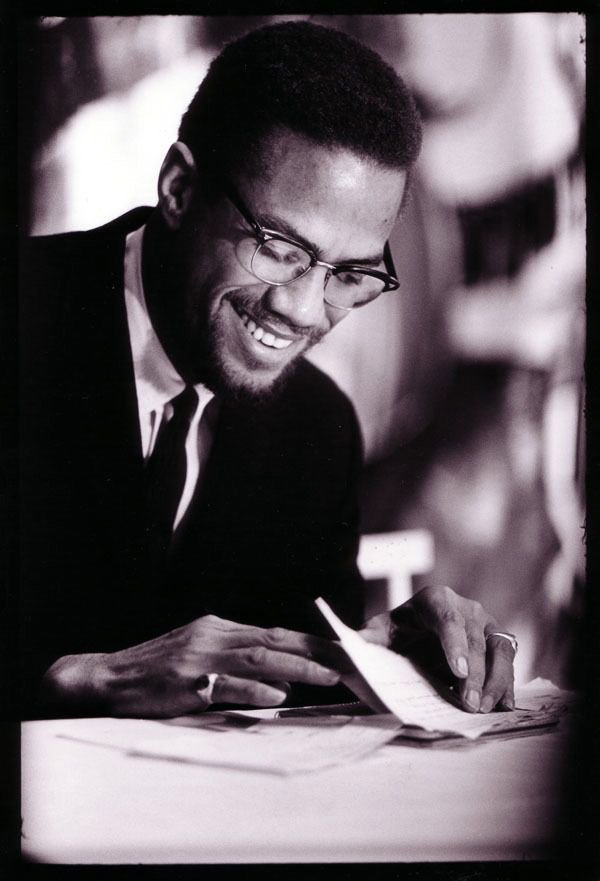 Malcolm X addresses meeting in Notting Hill, London, 11 February 1965. (Source: Artspar)
Fri, 12 Feb, London — Smethwick — Birmingham — London?
— Travels up on the train with De Freitas to Birmingham, heads to Smethwick
— Invited to Smethwick by the Indian Workers Association; the Conservatives had won a parliamentary seat at Smethwick by running an openly racist campaign
— Meets members of the IWA and discusses issues around the demand of white Marshall Street residents that no black people should live on their road
— Filmed by the BBC walking on Marshall Street comparing the situation to segregation in the American South
— Gives press conference at Julian Pettifer's hotel room in Birmingham; his comments go unreported
— Addresses a meeting of Muslim students at the University of Birmingham, chaired by Dr Ahmed Qidwai, a lecturer in Chemical Engineering and a FOSIS member. The venue, Priestly Hall, was packed. It was not an exclusive Muslim event but focused on race and racism.
— About a dozen Muslim students take MX to the Chamon Indian restaurant in Selly Oak, where he enjoys some kebabs [photo evidence, see below]
— A misunderstanding with the Birmingham Muslim students, assuming that Michael de Freitas is a Muslim because MX addresses him as "brother", leads to him being accidentally being misnamed as "Michael X", a name that sticks [Williams, p112]
— [Timeline unclear and disputed here, about when exactly MX returns to London, most likely late Friday night or less likely early Saturday morning. The claim of De Freitas that MX prayed Jumu'a at the Islamic Cultural Centre in Hanover Gate, Regents Park, in London is not credible. There was also too little time for MX to have "spent several hours visiting the various black centres in London and putting our plan (the formation of a London branch of the OAAU) across to the West Indians we met." (De Freitas/Malik, cited in Sherwood p204)]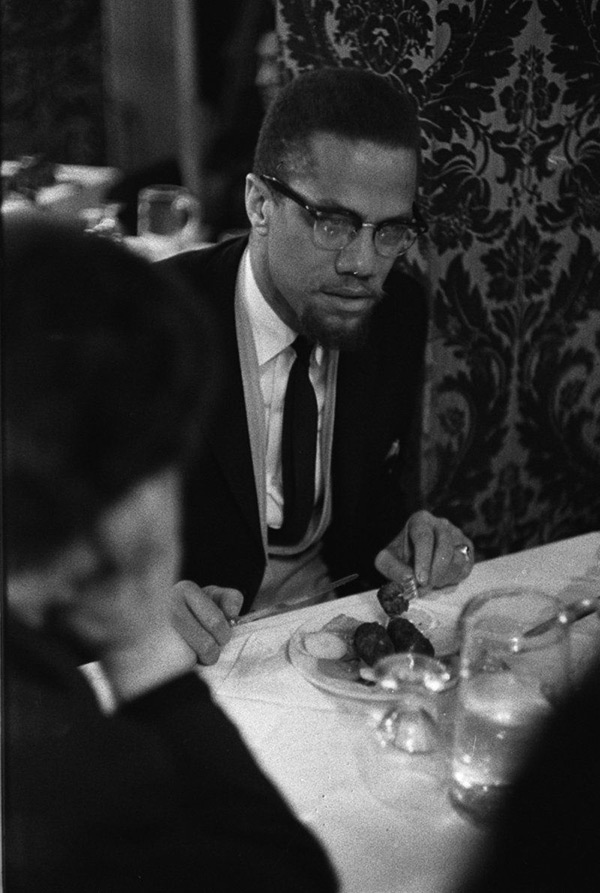 Malcolm X enjoying lamb kebabs with Muslim students at the Chamon Indian restaurant in Selly Oak after his address in Birmingham, 12 February 1965.
Sat, 13 Feb, London — New York
— Flies out 12.30pm on flight TW703 
 
Wed, 21 Feb, New York
— The assassination of Malcolm X at the Audubon Ballroom in Manhattan. Muslims believe that he is a martyr. May God have mercy upon him and us, amin.
Acknowledgements
Thanks to Sadiya Ahmed, Dr Syed Mustafa Ali, Batool Al-Toma, Dr Khadija Elshayyal, Farah El-Sheikh, Dr Sadek Hamid, Ibrahim Hewitt, Dr Atif Imtiaz, Christina Longdon, Jahangir Mohammed, Sheikh Michael Mumisa, Dr Asim Qureishi, Dr Jamil Sherif, Abdulmaalik Tailor, and Dr Tarek Younis for help, feedback and encouragement. All errors and omissions are my own fault. Evidenced corrections and additions are very welcome: the timeline should be seen as a collective work in progress, and an open resource for all those interested in El-Hajj Malik El-Shabazz.
Sources
Alhassen, Maytha, "The 'Three Circles' Construction: Reading Black Atlantic Islam through Malcolm X's Words and Friendships", Journal of Africana Religions, 31, 2015, pp1–17.
Amber, Saladin, Malcolm X at Oxford Union: Racial Politics in a Global Era (New York: Oxford University Press, 2014).
Anon., "An Eye Witness", Islamic Banner (Manchester), March 1993, cited in Sherwood.
Birt, Yahya, "Ebrahimsa Mohamed (1937–2017) and Malcolm X's British tour in 1964", Medium, 2 January 2018, https://medium.com/@yahyabirt/ebrahimsa-mohamed-1937-2017-and-malcolm-xs-british-tour-in-1964-3b43f2de9d09.
Curtis IV, Edward E., "'My Heart Is in Cairo': Malcolm X, the Arab Cold War, and the Making of Islamic Liberation Ethics", Journal of American History, December 2015, pp775–98.
El-Sabazz, El-Hajj Malik, The Diary of Malcolm X, 1964, eds. Herb Boyd and Ilyasah Al-Shabazz (Chicago: Third World Press, 2013).
Jordan, C. Scott, A Very British Muslim Activist: The Life of Ghayasuddin Siddiqui (Manchester: Beacon Books, 2019).
Mohamed, Ebrahimsa, "Malcolm As I Knew Him", Impact International, 24 Sept. 1971, pp8–9.
"Negro Extremist in London", Sunday Telegraph, 22 November 1964, p2.
S[herif], J[amil], 'Ebrahimsa Mohamed: A Tribute to a Community Giant', Muslim Council of Britain, 2 January 2018, https://mcb.org.uk/community/ebrahimsa-mohamed-a-tribute-to-a-community-giant/.
Sharif, Jamil, "FOSIS — Federation of Students Islamic Societies in the UK & Eire", Salaam, n.d., http://www.salaam.co.uk/fosis/.
Sherwood, Marika, Malcolm X — Visits Abroad (Hollywood: Tsheai Publishers and Distributors, 2011).
Special Correspondent, "Malcolm X Off to Smethwick", Times (London), 12 February 1965, p7.
Tuck, Stephen, The Night Malcolm X Spoke at the Oxford Union (Oakland: University of California Press, 2014).
Williams, John L., Michael X (London: Century, 2008).
Author: Yahya Birt